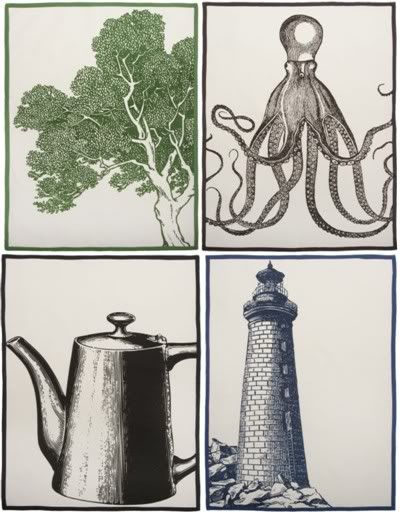 I am becoming more and more interested in interesting kitchen linens. Is this peculiar? I find myself spending entirely too long gazing at, and feeling up, the beautiful cloth goods in kitchen boutiques. In fact, I even purchased a set of yellow napkins. They were clearance...6 for $1...and they are a mustardy yellow, with a nice durable weight to them - quite a steal right!? I bought them with the intention of embroidering something cute along the edge. I bet that never happens...and they stay yellow.
I'm rather smitten with the kettle image on these tea towels. I thought for sure the tree would capture me (as most trees do)...or the lighthouse (Tommy and I had our first date at a historic lighthouse!). And then, the octopus is clearly rad in ever stylistic way.
Except. I'm partial to that kettle. Go enter to win them at
Style Obsession.